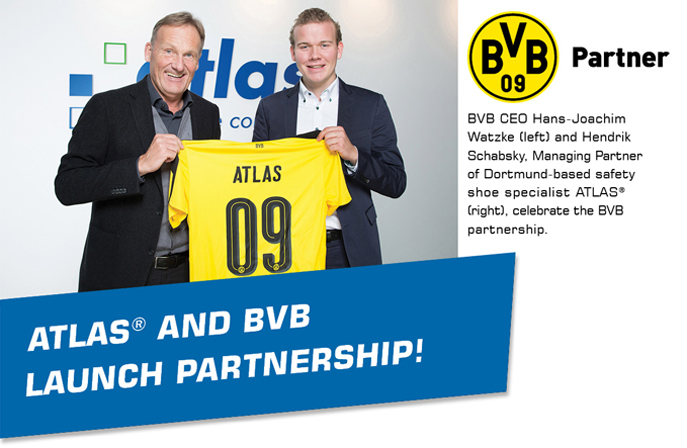 The successful German Bundesliga club Borussia Dortmund and ATLAS®, Europe's leading manufacturer of safety shoes, are lining up in partnership for the 2016/17 season with Borussia's top match against Bayern München on 19th November.

Hendrik Schabsky, Managing Partner of ATLAS®, and Borussia Dortmund's CEO Hans-Joachim Watzke recently signed the partnership agreement at the ATLAS® shoe company in Dortmund. "Even before today, ATLAS® and BVB shared a common path", according to Hendrik Schabsky. "For many years now these two historic Dortmund-based institutions have been at the absolute top of their game in their respective areas." ATLAS® opened for business only a year after BVB was founded. Since 1910 the company has produced safety shoes of the highest quality which in that time have been distributed all over Europe. Every year over 2.1 million pairs of safety shoes are produced at the company's production site in Dortmund.
"I have known and appreciated ATLAS for many years and am
delighted that BVB and ATLAS will be working together in the
future", said Hans-Joachim Watzke.

As a BVB partner, Dortmund-based safety shoe specialist ATLAS® is breaking the mould. Alongside a sense of tradition and a close relationship with the city of Dortmund both partners have a passion for quality. "It's not only one of Germany's leading football clubs that is expected to demonstrate the highest as well as continuing levels of commitment and dedication. For our company and brands high performance and quality are the norm, too", emphasised Hendrik Schabsky. "And at the end of the day we also need to achieve the best result." Safety shoes are a constant support in the working world. They need to be comfortable and easy to wear. Each and every ATLAS® safety shoe is a quality product and is tailor-made precisely to the customer's requirements. Thanks to carefully chosen materials, precise workmanship and maximum reliability ATLAS® makes products that continue to inspire day after day.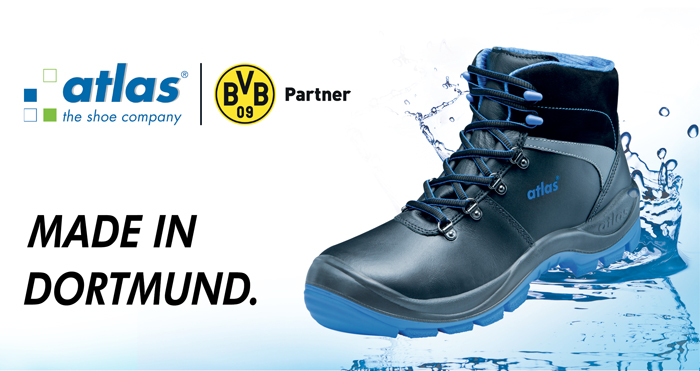 « Previous news item
» Next news item