Head of Logistics Detlef Gehring (left) and ATLAS Managing Partner Hendrik Schabsky at the ground breaking ceremony for the logistics area expansion.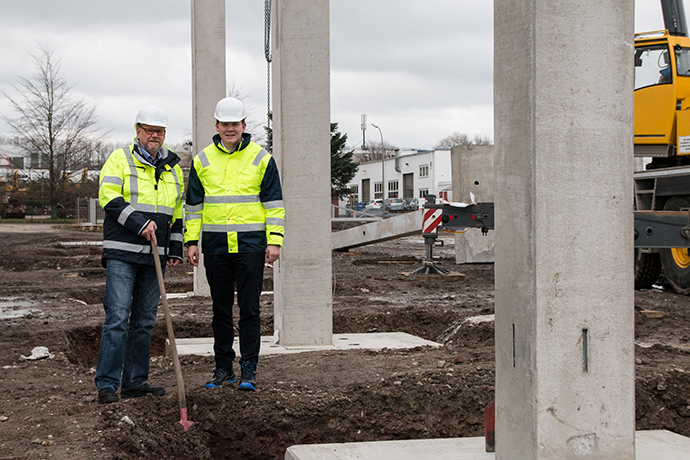 NEW BUILDING AT THE HEADQUARTERS IN DORTMUND
ATLAS® continues to expand its production and logistics areas. While still in the progress of installing another PU machine for the direct soling of our shafts, we are already breaking symbolic ground for our 4,000 m² addition to our logistics centre. Every day we receive an average of 14,000 pairs of shoe uppers, so-called shafts, from our own production plant in southern Brazil. The more than 80 m-long warehouse is intended to accommodate another 400,000 pairs of shafts on more than 2,000 pallet bays by mid-year.
"The goal of the extension is to increase our production capacity significantly. The significance of individualising safety footwear using different soul shapes and a variety of sole formulas is on a constant increase. An important step in that direction is maintaining a permanent stock of suitable uppers to be able to provide a flexible and quick delivery to final assembly and ultimately to the specialist retailers' storage," said Hendrik Schabsky, ATLAS® Managing Partner.
« Previous news item
» Next news item